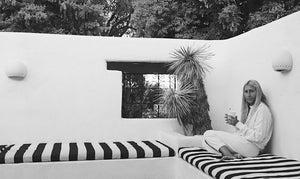 WOMEN IN BUSINESS, SHANAN CAMPANARO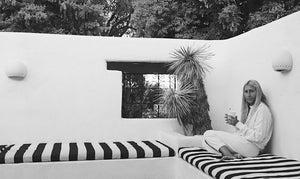 Shanan Campanaro, founder of NY based design studio Eskayel, has long been pushing the envelope of the interior textile world.  Her work, largely inspired by nature and her travels, exists in a league of its own - starting with original paintings by Shanan herself.  That being said, we are thrilled that she has agreed to be a part of our new journal series, WOMEN IN BUSINESS.  We caught up with Shanan in Santa Fe where we sipped on mezcal and styled her in some of our ready-to-wear looks.  Read on for more...
ABOVE: BELL AZURE STRIPE SILK TOP + MIA AZURE STRIPE SILK SKIRT
Your work is so tactile and beautiful, what part of your process feels most unique?
I think the painting process that happens before the design process is what makes our designs unique.  I use ink and water so the artwork is often very watery and colors bleed into one another like dye.  We also use only natural materials so our products are soft and organic feeling, especially the printed linen, organic denim, jacquard wovens and the silk and wool rugs.  
I imagine living in New York is endlessly stimulating, how do you stay focused?
I try and schedule down time regularly in the evenings and I also start everyday with exercise and meditation (either yoga, spinning or surfing - sometimes a combo of two).  I like to get up really early and have a whole morning of activities and / or sometimes rest before starting work later at 10.  I am also lucky I live about two blocks from my office in Brooklyn so I can walk to work and don't have to deal with riding the subway everyday or going into the city.
ABOVE: BELL AZURE STRIPE SILK TOP + MIA AZURE STRIPE SILK SKIRT
Do you have any rituals around your work?  
I need to have a clean workspace and a good amount of time ahead of me to get things done.
What goal or milestone have you reached that stands out?
I feel like reaching ten years in business was a huge milestone for us.  It is an interesting and somewhat daunting position to be in.  Having once been the new hot brand, we now find ourselves striving to stay fresh and relevant in a more saturated market.  It's a new and exciting phase of our development and a challenge I have been enjoying.
ABOVE: OLIVER DOT PRINT SILK DRESS
How do you find the balance between staying informed on your industry and staying true to your own path?
I'm actually the worst at being informed in my industry!  I really actively do not keep up with new products or brands or whats happening on a day to day basis especially in New York where there are so many other designers.  A couple times a year, especially around NYC design week and Milan design week, I take a deep dive and really look into what might be new and interesting.  I also have a lot of friends in design so I hear about stuff, but I try not to look at too much so I don't become influenced.  It also helps that most of my inspiration comes from nature or travel and doesn't really have anything to do with the design world.  I wait for inspiration and don't make things until it comes my way.
What is one thing you could not do your job without?
My small but efficient team has really helped my business flourish.  Me personally, I guess I can't do without photoshop... or paper and ink.
ABOVE: FELIX ORGANIC COTTON TERRY TOP + LANI ORGANIC COTTON TERRY HAREM PANT
Is there one piece of advice you would give someone starting out?
Yeah, I think that one should not be afraid of failure or daunted by it, but always be sure to learn something from your mistakes.
You've put out so much great work at this point, which collection makes you feel most proud?
Hmmmmm.  I think I'm really proud of some of the murals I've made - Some of them are just my paintings not even turned into a repeat, so it makes me happy they have been successful as wall murals.
ABOVE LEFT: FELIX ORGANIC COTTON TERRY TOP    |    ABOVE RIGHT: CALIX WASHED BLACK COTTON DRESS
If not New York, where would you run your business?
I'm not sure that anywhere would be better than New York for what I do!  Maybe the Hamptons? Or Hawaii? Or maybe California where I am from. Honestly, I think we should always have a home base in New York.
What are you most excited about for the future of Eskayel?
I'm excited for a new rug collection that I will hopefully be launching next year!

Thank you to our readers for following along, and a HUGE thank you to Shanan for sharing your words. 

Find more of Shanan's work and daily musings via her Instagram: @eskayel.